The Montessori Method is an individualized approach to education designed to support the development of independence and critical thinking through thoughtfully prepared environments which utilize each child's inherent eagerness to learn. The fundamental flexibility of the method ensures each individual's needs are accommodated for regardless of learning style, academic progress or age.
This educational program was developed by Dr. Maria Montessori, Italy's first female physician, Dean of Scuola Magistrale Ortofrenica (institute for training teachers in education for mentally disabled children) and an academic chair-holder in anthropology at the University of Rome. After countless hours observing adolescent behaviour, Dr. Montessori recognized early childhood education is most effective when children are given liberty to act freely in a specifically prepared environment. Coupled with committed teachers, children are enveloped in an atmosphere to help them flourish and reach their full potential.  
Dr. Montessori used her background in anthropology to create classrooms and educational materials which are based upon the natural inclinations of children. She continued to develop and refine her method until her death in 1952. Today thousands of schools around the world have adopted her educational method in their classrooms and continue to aid children to a wholesome life.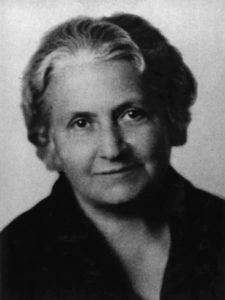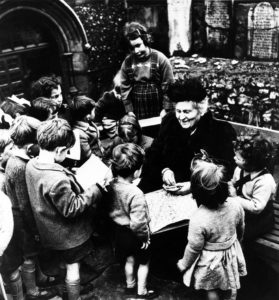 "Our aim is not merely to make children understand, and still less to force them to memorize, but to touch their imaginations as to enthuse them to their innermost core."